Place-based Learning
by Victoria Grotton, Penobscot County Teacher of the Year Pre-K, Glenburn School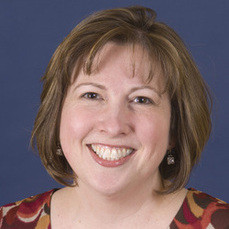 Have you ever carefully observed a three, four, or five year old in a garden? On a nature trail? In a mud puddle? The splashing is purposeful. The shouting is expressive. The climbing is rewarding. The touching is...slimy! This excitement exists in place-based learning and active teaching.
In PreK, EVERYTHING is a learning opportunity! Place-based learning provides our children with real-life experiences; driving children to dig deeper and prompting them to become stewards of their environment. We explore, collect data, ask questions, and involve families in learning about the nature around them. My intent is to spark a life-long love for nature and a "can do" attitude toward science exploration. These children will grow to articulate deep questions, make predictions, and seek answers. My hope is for families to see science and enjoy all that is around them!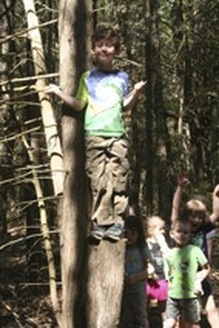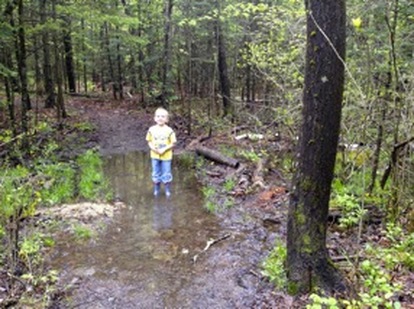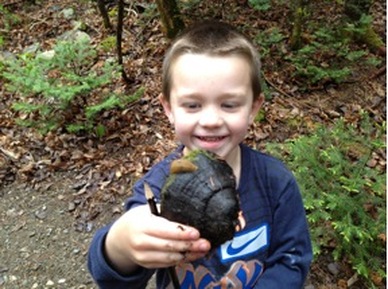 Personal Introduction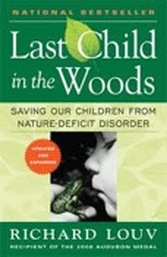 I was that child who had a question for everything. My mother wanted me to stay inside to cook, craft, and snuggle, while my dad encouraged climbing trees, feeding chickens, exploring the river's edge, and digging in the dirt. I remember watching a chicken eat a slug one damp morning and so, off I went collecting slugs for them. (I knew just where to get them, too!) Until these nature trail adventures, it never dawned on me that slugs were meant for anything but making my father disgruntled by eating his garden. I always wondered what made slugs tick...however, I had never acknowledged the natural classroom around me and the benefits of being in nature as I do since my "Ah-ha" moments prompted by a University of Maine Early Childhood Education graduate course: Science as Inquiry and the book, Last Child in the Woods by Richard Louv. (A book you might enjoy discussing nature-deficit children and its implications – amazing and thought provoking!)
I truly believe we learn a great deal by reflecting. I enjoy reflecting. In fact, I enjoy it too much! How can I teach that lesson better? What were my students excited about? What questions do we still have? What went well, what didn't? Where do I go from here?
Student-Led Learning: Ah-ha moments!
On my very first PreK nature trail walk four years ago, the ground was covered by slimy golden creatures. The kids were amazed – slugs were everywhere! There wasn't a minute that passed when one of my four year olds didn't ask a slug related question. Yet, I had a choreograph plan to listen for birds and teach a bird unit. I tried to get the kids to look up, when they were focused on creatures underfoot. This was the momentous day, I learned my students' interests drive learning better than any text book or pre-planned unit. Slugs were more exciting than birds, and our SLUG investigation began!
That afternoon I had lunch with fourth and fifth graders. I mentioned the PreK slug excitement on our nature trail, and my lunch companions fired off a long list of slug inquiries. Ah-ha! My science place-based unit was born, "How do slugs live in your yard?" Our place-based activities offered opportunities to engage in every PreK learning standard. (Download: "Are you a Slug?")
I had daily offers from fourth and fifth graders to help with our slug inquiry in nature's classroom. Yearning faces were regularly seen through the fourth grade through eighth grade doorways as we head down the halls in our rubber boots, holding cameras and clipboards.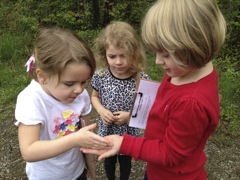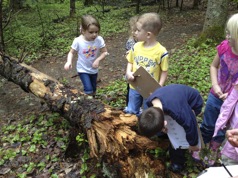 We had peaked everyone's curiosity – even the principal had asked to join us! But this was real work – "This is science!" my students responded, "We have to listen to directions for what to search for, observe, and record data with tally marks or pictures. I like to have Mrs. Grotton take a picture of me pointing to what I discover!"
Creating Life-long Learners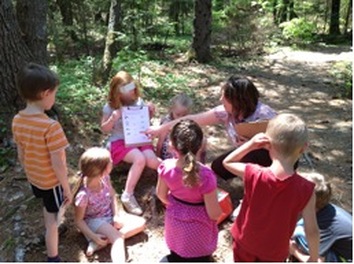 Now, I see slugs everywhere, big slugs and baby slugs, slugs on my window boxes, slugs on my steps, and even slugs on my sneaker in the mudroom. (And yes, I carefully relocate them outside to live.) Isn't it odd how spending time in nature makes us more aware and care about the little things our everyday life holds?
These young learners are involving parents with their nature explorations, and documenting learning, too. Students are the teachers at home, making families investigate nature, solidifying knowledge, spending quality time together, and making learning meaningful. Regularly, I receive texts from parents with a slug encounter and kid quote! One mom's Facebook post read something similar to, "Only Mrs. Grotton will truly understand, but my daughter just came running urgently saying I had to come quick. We are observing all the slugs on our dog's feces."
I never expected to be a slug expert, but here I am. I have included a few materials from our slug studies. Feel free to borrow them and adapt for any place-based learning you embark on!
Currently, my PreK students are investigating the decomposition of pumpkins using our classroom terrarium of rotting fruit and vegetables to make comparisons.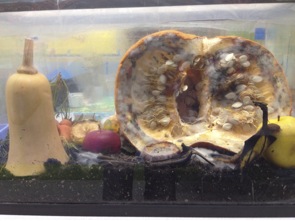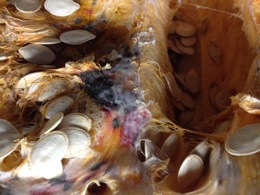 Oh, the things we are witnessing!
Perhaps you'd like to see our progress in my next blog post? Contact me with questions and new ideas to support one another. There's always more to learn!
ADAPTABLE MATERIALS
Story Telling
(The art of story telling can be a vital tool to build excitement, interest, and learning! Go ahead, try it the next time you are teaching your children/students.)
My Grandfather's Garden: Whose lunch is it?
When I was your age, I had a job! I worked for my grandfather. My grandfather always wore a white t-shirt, shorts, dirty socks, and work boots. I loved him very much, especially since I was named after him. He could ask me to do anything and if it meant spending time with him, I'd do it. When I think of my grandfather, I picture him in his HUGE garden hoeing between the never-ending rows of vegetables. He LOVED his garden!
I remember this one day when he was mumbling on and on and on...kind of rambling. Mollusk mucus everywhere, chomping on this, chomping on that...He just wouldn't stop ranting and raving about these gastropod pests, traveling on their foot, which is also their belly – our enemy. "Friend or foe!" he'd shout, "If you aren't a garden's friend, then you're a foe and must go!" (I thought it was catchy, "You're a foe, you must go!")
Thus, my job...I was to collect slugs from the garden. "But Grampa, how?" He replied, "Use your eyes." (Use my eyes? Really???)
So, that day, I walked around the garden picking up slugs and relocating them to the woods. But...as the sun dried the ground, the slugs disappeared. My grandfather suggested I learn the slugs' food supply and trap many slugs at once. But how??? What do they like most? Grampa handed me a small shovel and pointed to his ENORMOUS compost pile, "You might see them eating lunch where we dump our egg shells and food scraps to decompose." A CLUE!!! Off I went! And there I found – SLUG Heaven! What do you think they were munching on???
Home/School Connections
(Activities for any place-based learning)
PreK has enjoyed our slippery slug sessions, searching and seeing sensational sights! Here are a few home activities families can do to join in and add to this learning excitement. Feel free to create your own activities, too. The Waldorf educational method believes that learning experiences are best when they have all 3 focuses to provide the learner with:
A feeling of responsibility
A sense of truth
A need for imagination
Please encourage your child to share his Home/School Connection activity with classmates so we may all continue to learn.
Have a family slug hunt:
Draw a map of your yard to show slug activity
Day, date, time of day
Weather conditions
What are your slugs doing? Friend or Foe? Do they need to be relocated?
Tally slugs spotted
Measure slugs using a ruler or a non-standard unit of measure
Draw your slugs. Color them to match. Label their activity (eating lettuce)
Support child when writing by letting him/her write the sounds they hear, with the adult filling in missing letters.
Graph slugs by length, color, friend or foe activities
Feed your slugs. Make predictions about foods they will eat and check in 24 hours to check your predictions.
Design your own experiment & documentation panel to show learning:
What new items might capture slugs in your yard?
Hypothesis, predict, observe, document, and report findings
Create a compost area for your yard:
Rinse and reuse a large can with a plastic cover to hold small amounts of organic garbage. Add this job to your family's chore chart.
Write a book about slugs with photos taken by your child/family. Informational, documentary, fictional, from the slug's point of view, from your child's point of view, etc.
What ideas do you have?
Vicki Grotton is the preK teacher at Glenburn School. In collaboration with the University of Maine, Mrs. Grotton designed the school preK program and has served as its teacher since its start in 2011. Previously, she spent nine years as a 6th grade teacher at the school. Mrs. Grotton holds a Bachelor's of Science in Education from the University of Maine and is currently enrolled in its Master's in Elementary Education program.