Using Backward Design to Improve Student Writing
by Jennifer Dorman, Somerset County Teacher of the Year & 2015 Maine Teacher of the Year 7th and 8th grade English/Language Arts and Special Education, Skowhegan Area Middle School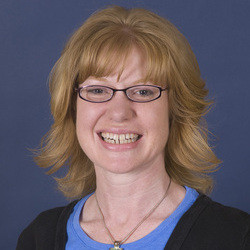 Today's Common Core Standards require students to comprehend complex text across the curriculum. The Standards focus on the need for students to develop a deeper understanding of content knowledge. Likewise, the Common Core Standards demand a heavier emphasis on informational and argument writing. Students must convey deeper levels of understanding, and consequently must be fluent in using evidence from a variety of sources when writing. Unfortunately, writing about content is one of the most significant challenges my students face in English/Language Arts class.
Last summer, I had the benefit of attending a conference lead by Vermont Writing Collaborative members, Joey Hawkins and Jane Miller. I left the conference believing they were two of the most brilliant educators I have ever met. By using the popular lesson-planning technique of backward design, they outlined a practical method to improve student writing using the same materials and curriculum teachers use in their classrooms every day!
Each year, my seventh graders complete an immigration unit, during which I require them to complete informational pieces and a culminating argument piece. Throughout the last seven years, I have been less than satisfied with the results of writing my students produced. However, after using backward design methods this year, my students produced quality writing that demonstrated a deeper understanding and showed characteristics of critical thinking. Using this approach truly improved the quality of my instruction and student work.
Are you thinking you could use backward design in your instruction? Here are some key ideas to keep in mind when using backward design to improve student writing:
Develop your guiding question before starting your unit. Keep it posted in a visible location and continually refer back to the question during instruction. If you plan ahead, this can be the same question your students use for argument papers!
Examine each activity you do with your students. Ask yourself, "Will this activity help my students answer the guiding question?" Use only activities that will help answer the guiding question!
Hawkins and Miller suggest the use of "public notes". Public notes ensure that all students have access to all material when writing. I used the public note strategy for the first time with my immigration unit and found students using the notes not only for their writing, but for class discussions and debates as well!
Immerse students in a variety of sources. The more they learn, the more they will write!
I have always found benefits in using backward design, but through the years, I found myself moving away from some of its most effective principles. Thank you to Joey Hawkins and Jane Miller for bringing this method back to life in my teaching, and for showing me how backward design could help me connect my writing instruction to Common Core Standards.
Below, you will see an outline of the steps I used to promote better writing from my RTI and Special Education students in their ELA classes: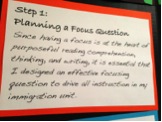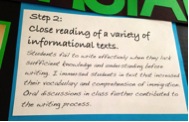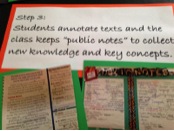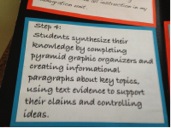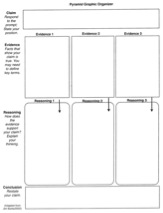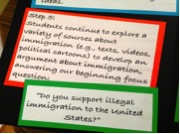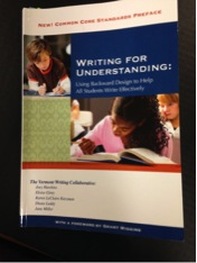 If you are interested in learning more about using backward design to improve your students writing, I highly recommend reading Writing for Understanding: Using Backward Design to Help All Students Write Effectively (Copyright 2008) by the Vermont Writing Collaborative.
Jennifer is a 7th and 8th grade English/Language Arts and Special Education teacher in MSAD #54, Skowhegan, Maine, where she has taught for 21 years. Jennifer is the 2014 Somerset County Teacher of the Year and the 2015 Maine Teacher of the Year. She earned a Bachelor of Science degree in elementary education from the University of Maine at Farmington, and a Master of Arts in education from Lesley University. Jennifer also serves as a course instructor for the Maine Education Consortium.