A Visit with 1972 Maine Teacher of the Year Mrs. Todd
We recently sat down for an interview with Marilyn Todd, 1972 Maine Teacher of the Year.
We first met Mrs. Todd when she attended the Hall of Flags announcement for the 2014 County Teachers of the Year. Mrs. Todd was there to support all the teachers, but in particular, Sarah Brokofsky, 2014 Cumberland County Teacher of the Year. Mrs. Todd served as a professional mentor to Sarah and is a personal friend as well. Sarah's daughter, Maggie, thinks Mrs. Todd is pretty special too.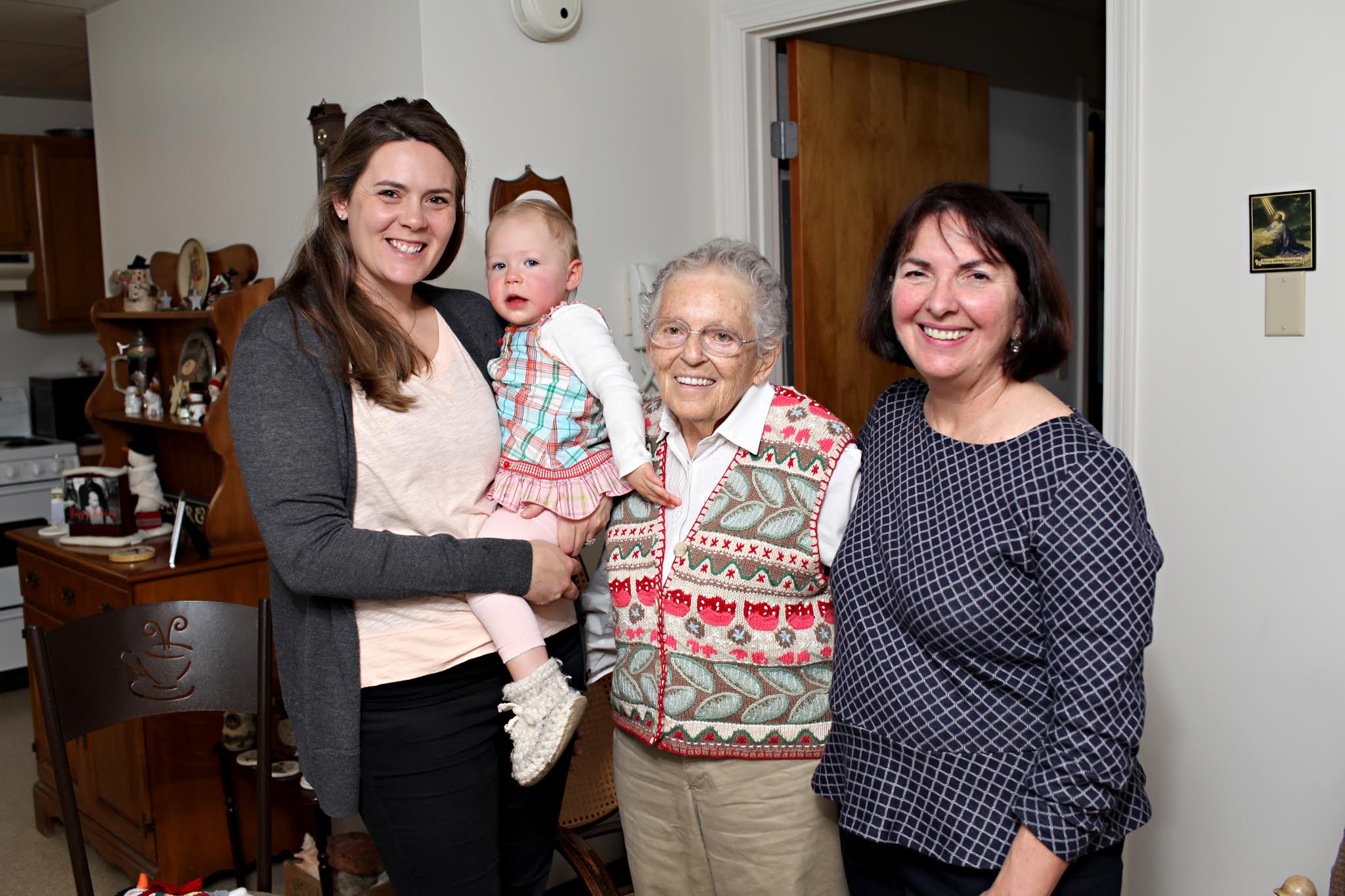 On the day we visited Mrs. Todd, her daughter Laurie Todd Jariz, Carol Ridlon, Portland Public Schools Consulting Teacher, and Sarah and Maggie Brokofsky joined us.
When Mrs. Todd was named Maine Teacher of the Year in 1972, Kenneth Curtis was Maine's Governor and Carroll McGary served as Commissioner. James Rogers, from Durham, NC was the 1972 National Teacher of the Year. Mrs. Todd taught kindergarten at the North School on Munjoy Hill (the building is now a home for the elderly). Her principal, Fred Jeffery, nominated her. She knew she had been nominated because she had to do some writing for the nomination, but didn't say anything to her colleagues.
A few years earlier, in 1968, her friend Elizabeth Brennan had been named Teacher of the Year. Mrs. Brennan was Marilyn's idol and "was a pretty big deal in Portland schools". She assumed the bar was set pretty high and didn't really think she was in that category. But she was just happy to be nominated. Little did she know.
A day in Marilyn Todd's Kindergarten Classroom.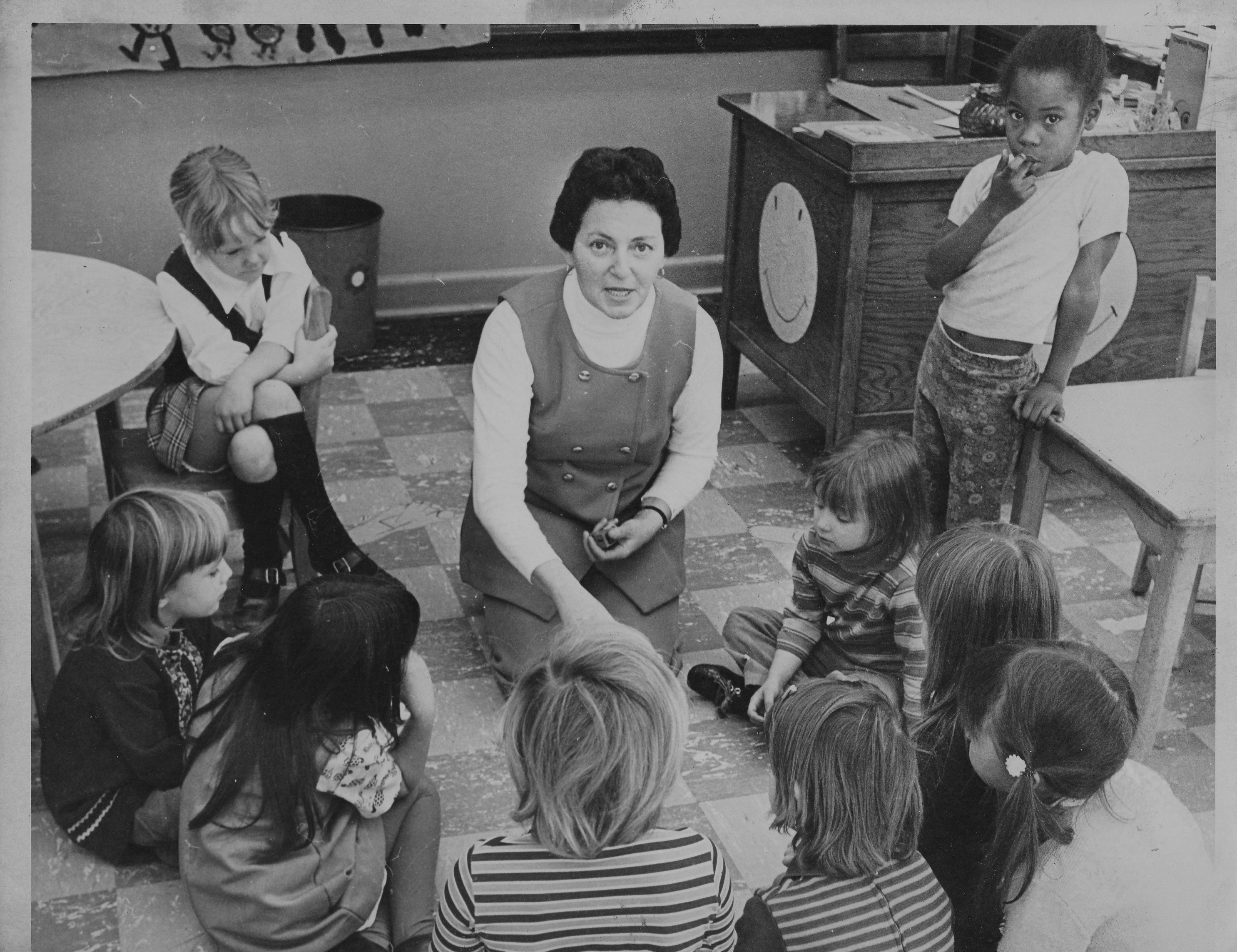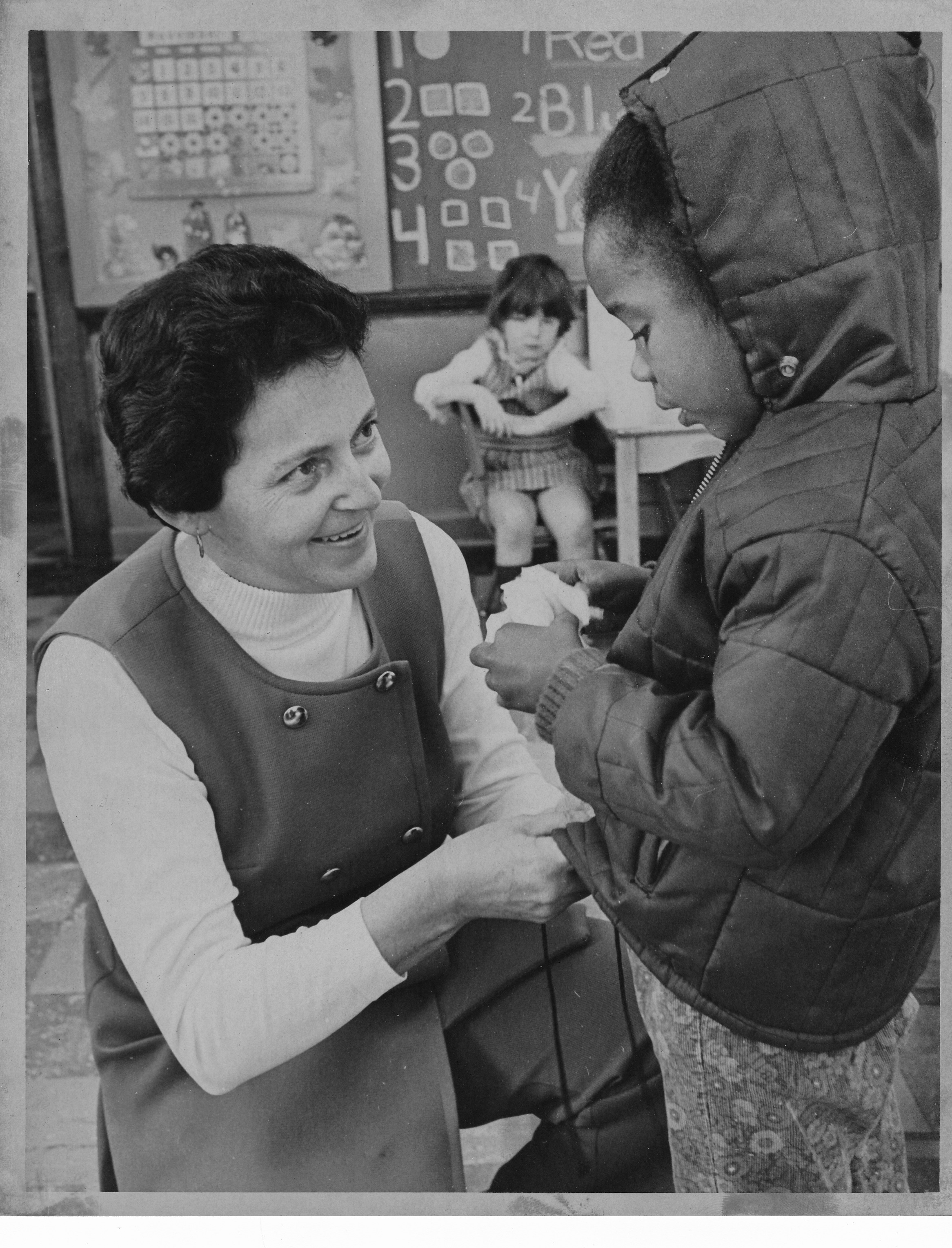 As noted, Mrs. Todd was a kindergarten teacher. Two sessions each day with 30 students each session. According to Mrs. Todd, the Munjoy Hill section of Portland was very different back in 1972. It was a neighborhood in which "many of my kiddos were very needy". She went on to say "But I needed them as much as they needed me."
Background:
Marilyn is a 1952 graduate of the University of Maine at Farmington. She loved her time at UMF and is "grateful to them for giving me the tools to be a great teacher".
She started teaching in 1952 in South Portland, taught for several years then decided to stay home for a number of years with her three children. She went back to the classroom in 1964. She "retired" in 1994. More realistically, she stopped getting a salary for her work. Soon after retirement, she started tutoring special education students in classrooms and, at times, in rehab facilities. She spent a lot of time with 5th graders at the Presumpscot School. She told us that she used the same 'tactics' with the 5th graders as she did her Kindergarten students – working on their self-esteem, helping them understand how to make good decisions, and to work with the other students and modeling kindness. She told us that the 5th grade kids were wonderful and sometimes just needed a hug just like her Kindergartners. Some things don't change.
According to Carol Ridlon, Marilyn is 'a legend' at Presumpscot School and the teachers love her. She referred to Marilyn as the "kid whisperer" and state that "Marilyn can calm and quiet the most challenging behaviors."
At age 88, Marilyn still likes to visit schools. "When I visit schools, it's like a boost in the arm. Making someone feel good about themselves keeps me going."
On the day she found out she was the Maine Teacher of the Year, it seemed a typical day in Mrs. Todd's classroom. She was in the back of the classroom for story time with her students. She had no idea. Her principal, Mr. Jeffery, came in with a big smile on his face and quietly told her. She was very excited but didn't say anything to any of her colleagues. She didn't want to hurt their feelings. Later when she told her family her son asked, quite incredulously, "You?". She just chuckled…she knew her son was proud. "Kids have a way of making things real."
It really hit her the next day when she arrived at school as usual, parked on Smith St., walked to the school to find a giant white sheet draped on the fence "Home of Marilyn Todd, 1972 Maine Teacher of the Year". She said it was one of her greatest thrills. It was also then that she realized she was a representative of her teaching colleagues. She felt proud and a little nervous. She thought, "why me? There are so many great teachers in my school. Do I deserve this honor?"
North School had an Open House in her honor, the parents and students attended. She was invited to Augusta to meet with the Commissioner. She told us that she loves the way the program is now making it so special for teachers and giving the teachers the opportunity to talk about the profession in a wider forum. She may not have had the opportunity to travel to a National Teacher of the Year conference to meet her colleagues or to have the support of a County Teacher of the Year cohort, but there is no doubt she took seriously her role 1972 Maine Teacher of the Year as a way to promote the profession that she loved so dearly.
Marilyn Todd is forever a Teacher.