Family, Students and Schools: Keeping Students at the Center
by Skip Crosby, Androscoggin County Teacher of the Year Spanish, Poland Regional High School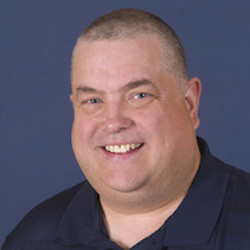 In July 2014, most of the sixteen 2014 County Teachers of the Year met to develop a common platform; a message deemed of utmost importance. At the end of the day we decided that since "nothing impacts a child's academic and social success in school more than a healthy relationship between schools, families and communities," we should make that relationship the center of our platform.
I started the year with the desire to increase communication and parent involvement in my class. I stumbled upon an idea posted by a colleague in another state on Twitter. She developed a sheet of questions about the course outline for both students and parents to answer. Students brought the course outline and the questions home to read with parents.
The questions were:
What is one thing that surprises you about the course outline?
What questions do you have about the course based on what you read in the course outline?
What is one challenge that you think the course will present for your child?
What is one concern you have?
Most of the responses are summarized as follows:
I like the rarity of homework.
Unannounced quizzes are surprising.
I am struck that second languages are acquired like the first.
I am concerned that the method might be too difficult for the child.
I appreciate the outline.
I like the appearance of organization and thoughtfulness.
I appreciate the attention to citizenship in the class.
I read and responded to each comment and question that parents and students had. I addressed several misconceptions and questions about the class. Students were then asked to bring my responses back home.
I am committed to increasing the level of family engagement and communication in my classes. My next step is to ask parents what would help them feel more connected and engaged in their student's learning in my class.
Skip Crosby is a teacher of Spanish at Poland Regional High School in Poland. He has been teaching for almost 24 years. Skip holds a Bachelor of Arts in Political Science from Gordon College, Bachelor of Science in Secondary Education from University of Maine, Farmington and a Masters in Spanish from Middlebury College. Skip spent two years at La Universidad Javeriana in Bogota, Colombia where he earned a certificate in Spanish. He graduated from Leavitt Area High School in Turner, ME.