Igniting Curiosity: Using "Emergent Curriculum" to build a community of curious learners
by Sarah Reynolds, Franklin County Teacher of the Year 4th Grade, Cascade Brook School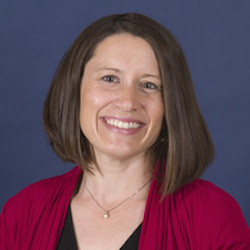 As a novice gardener, I felt a surge of disappointment one evening after scurrying out to my raised beds only to discover the foliage on my tomato plants nearly destroyed. After further investigation, I jumped back in horror when I saw some enormous, green, worm-like creatures all over my plants. I couldn't even bear the thought of touching one, and I even found a few covered in eggs. That was all I needed--a reproducing garden-eating monster!
My curiosities about this creature led to more questions, which in turn resulted in more knowledge through research, and this simple exposure to something completely foreign transformed my thoughts on teaching and my "Emergent Curriculum" was born.
Since then, I've had a fish tank in my classroom with something "special" inside. A "Wonderings" chart rests next to the tank where students can write questions as they make observations.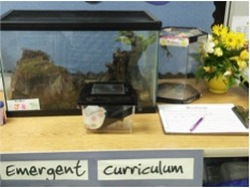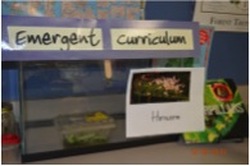 To date, my students and I have researched: toads, crayfish, coal, monarch caterpillars, and even a praying mantis. Last year's class took this one step further and voluntarily researched topics on their own time and presented them to the class during our snack break.
Isn't this love of learning a teacher's dream?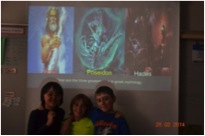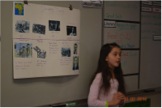 While curricula and standards of learning are critical components of today's classrooms, we, as educators, cannot limit learning to these walls; we need to turn everyday events into learning opportunities.
We need to ignite the motivational flame in learners by tapping into their curiosities. By doing so, we make knowledge contagious. This excitement results in motivation, and true motivation creates independent learners ready to shape not only their future, but the future of an educated and forward-thinking society.
How can we all ignite this desire to learn? How do we keep the flame burning?
Let's nurture the natural curiosity children are born with by asking the questions that help our students burn bright. An empty tank goes a long way, and I encourage all teachers (and parents) to see what "Wonderings" emerge from the learners in their lives.
Sarah teaches 4th grade at Cascade Brook School in Farmington. She has held this position since 2012. Sarah is also a member of the district teacher evaluation team. Sarah previously spent six years as a 5th grade teacher at Belgrade Central School and three years as a 7th grade math and science teacher at Windham Middle School. Sarah has a Bachelor of Science in elementary education from the University of Maine, Farmington and a Master's in elementary literacy education from the University of Maine.